Nearly $1M In Counterfeit Goods Seized. Including Bucks NBA Championship Rings
WSN/ABC | Cincinnati | Updated: Jan 4, 2022
Dozens of counterfeit Milwaukee Bucks' NBA championship rings have been seized at the Port of Cincinnati.
U.S. Customs and Border Protection said officers there intercepted 56 shipments of fake rings during the past three months.
The 1,382 rings and trophies were estimated to be worth $982,263.
Agents said the shipments were intercepted between October and December.
The cheaply made rings, which lacked detail and quality, also included World Series and NASCAR championship rings.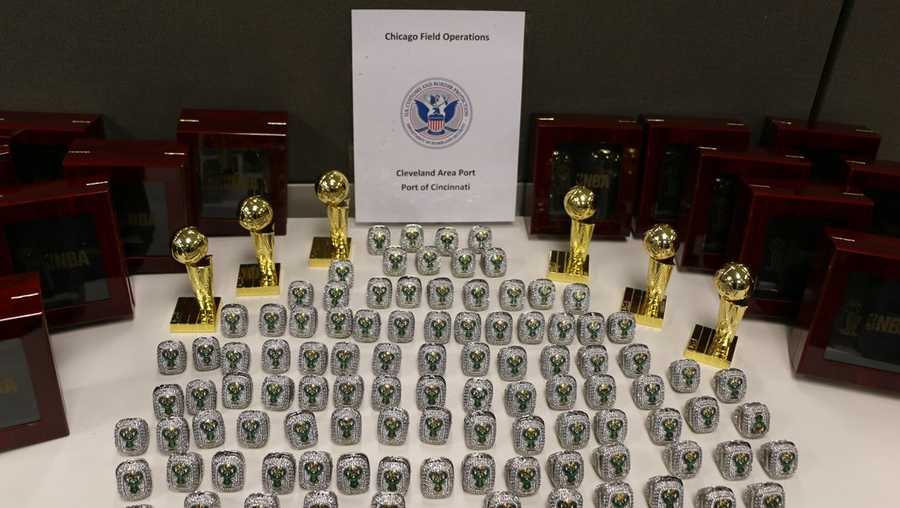 Photo of Milwaukee Bucks NBA championship counterfeit rings that were seized by U.S. Customs and Border Protection SOURCE: U.S. Customs and Border Protection
Many of these shipments contained trophies, such as the Vince Lombardi trophy to go along with the ring sets.
They included goods from the Boston Red Sox World Series, LA Dodgers, Milwaukee Bucks, University of Kentucky Championship, and NASCAR Championship rings, to name a few.
"Part of CBP's mission is to protect American consumers from purchasing these counterfeit products," said LaFonda D. Sutton-Burke, Director of Field Operations-Chicago. "This seizure illustrates our commitment to stopping counterfeit products from China and protecting our nation's economy and consumers from those intent on defrauding businesses and consumers alike."
The agency said the shipments originated in China and were sent to residences throughout the United States.
"Purchasing counterfeit sports memorabilia defunds our sports organizations," Cincinnati Port Director Richard Gillespie said. "The money profited from selling fake merchandise such as championship rings, is used to damage the United States economy and fund criminal enterprises. I am proud of the officers in Cincinnati, they work hard to protect our domestic businesses and stop illegal shipments."
If the seized products were genuine, the total manufacturer's suggested retail price of the items would have been valued at over $1.3 billion.
https://www.wisn.com/article/counterfeit-milwaukee-bucks-nba-championship-rings-seized/38669043